Intermediate Bulk Containers (IBCs) are the ideal product for the storage and transportation of petrochemicals. Our stainless steel IBCs are stackable, washable, reusable and can be shipped affordably. DOT UN31A certified, stainless steel IBCs can safely hold flammable product and are corrosion resistant. The durability of stainless steel tote tanks are ideal for the petrochemical industry. A petrochemical IBC tank can withstand repetitive use and transportation for years, even decades, if handled properly.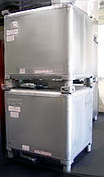 Fossil Fuels and their derivatives are converted into thousands of chemicals used in consumer products. These include petroleum, kerosene, paraffin wax, propane, and lubricants. Before you buy (or rent), it's important to research what materials your product is compatible with.
We supply
stainless steel
, carbon steel,
and

high density polyethylene containers.
Check the
chemical compatibility guide
to ensure your chemicals are compatible with the material the tote is made of.
While needs vary, many companies find the
sta
ndard 350-gallon stainless steel
size to be ideal. Stainless steel is compatible with thousands of chemicals, and a 350-gal IBC can be stacked three high in storage and double stacked in transportation when empty, allowing for maximum space efficiency.
IBC Rentals
All stainless steel IBCs in Metano's rental fleet come equipped with quick connect fittings, allowing for quick and efficient discharge of product. A quick connect fitting, instead of the standard NPT fitting, can save a significant amount of time if your operation requires filling and emptying many IBCs. The sloped bottom of our totes allows for nearly complete drainage, leaving minimal residual in the tote tank. Complete and efficien
t discharge can lead to substantially more product being moved through your operation therefore saving you money!
Our reliable
IBC rental service
is ideal for customers looking to take advantage of the benefits of stainless steel IBCs without the large up-front capitalized cost. Renting is an ideal solution for changes in production or short-term liquid storage needs.
Metano has two capacities available for rent, 350-gallons and 550-gallons.
Our dedicated customer service team will help find the best IBC solution for your application.
As
a
ful
l-service supplier of IBCs, Metano is committed to helping our customers with all their IBC needs, incl
uding rental, sales,
maintenance and repair, transportation, and custom application design services.