Intermediate bulk containers
play an important role in the movement and storage of liquid cosmetics and personal care products. The personal care industry includes hair care products, creams, lotions, gels, serums, fragrances, sprays, dental care liquids, and many other OTC products. Whether you are moving raw ingredients or shipping the finished product to a packing facility,
stainless steel IBCs
are the container of choice.
In the past, manufacturers in the personal care industry looked to drums for storing liquid product. Nowadays, the top cosmetic manufacturers know that IBCs provide superior storage capability. IBC totes store liquids more efficiently than drums, providing more storage capability per pallet space. A 550-gallon IBC takes up the same amount of space as four drums (one pallet), but has the same capacity as ten drums!
Unlike drums, IBCs are reusable and environmentally friendly. Reusable totes reduce disposal costs, minimize the number of containers needed, and diminishes the clutter laying around the warehouse. No more space wasted by used drums waiting to be disposed of. These features result in lower cosmetic transportation and storage costs.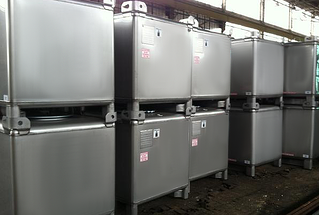 The need to move large quantities of liquid products though the supply chain is a major concer
n for cosmetic manufacturers. The ability to easily fi
ll, transport and empty containers in
the most efficient way
possible is a necessity. Our containers are stackable, washable, reusable, and can be shipped affordably.
IBC Rentals
Our reliable
IBC rental service
is ideal for customers looking to take advantage of the benefits of stainless steel IBCs without the large up-front capitalized cost. Renting is an ideal solution for changes in production or short-term liquid storage needs. Metano has two capacities available for rent, 350-gallons and 550-gallons. While needs vary, cosmetic manufacturers often use a
350-gallon stainless steel
IBC for cosmetics.
As a full-service supplier of IBCs, Metano is committed to helping our customers with all their IBC needs, including rental, sales, maintenance and repair, transportation, and custom application design services. Our dedicated customer service team will help you find the best IBC solution for your application.